How to create a new email address within KonsoleH
The information in this article is related to konsoleH.
If you are using our new Control Panel, refer to
this article
.
New email addresses for your xneelo domain can be either mailboxes or mail aliases (redirects) and are created via your konsoleH control panel.
Once created, mailboxes can be set up on your desktop or mobile device in the mail programme of your choice or accessed online via WebMail.
Note: This article refers to the new Mail Admin tool. For help using the old Manage Accounts tool, see: Create a new mailbox (konsoleH v1)
Add an email address in konsoleH:
Browse to konsoleH and log in at Admin level
Select or search for the required domain name in the Hosting Services tab
Click Mail from the left-hand menu > Manage Accounts under Mail.
Select konsoleH beta

The Mail Admin page displays all mailboxes and aliases for your domain. webmaster is the default mailbox for new hosting accounts and can be deleted if not needed.
Click the red + Add to add a new mailbox/email address.

Choose a type of email address – mailbox or alias:
A mailbox is an independent email address with full functionality. Mail is stored on the server and adds to the disk space of the domain's web hosting package. If a forwarder is added, mail will be delivered to both the mailbox and the forwarded address. An alias is an email address that is redirected to another email address – either on the same domain or to an external address.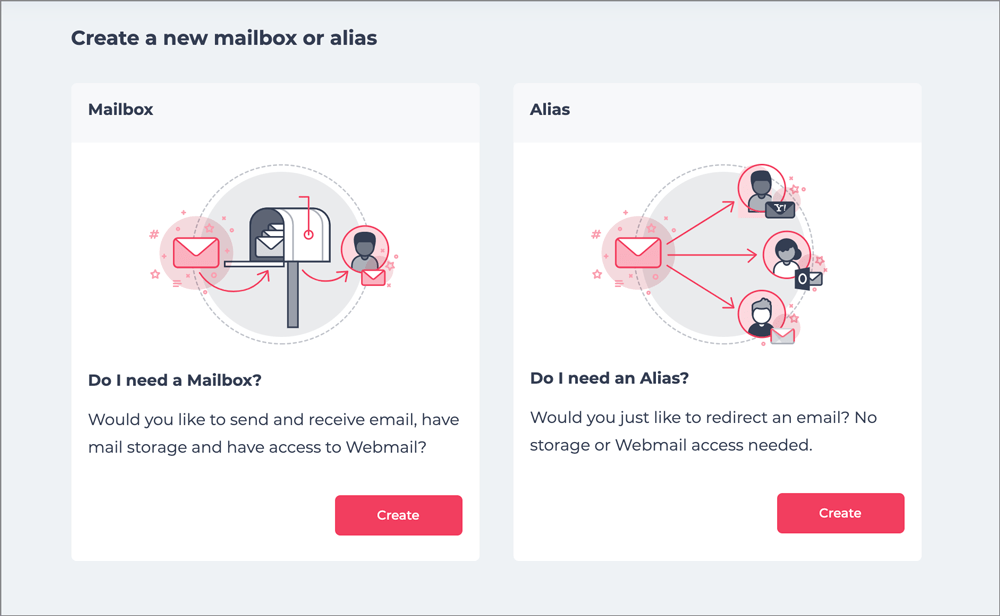 Add a mailbox:
Click Create.
Add the new email address and your choice of password. Add a forwarder only if the email needs to be received in this new mailbox as well as to the forwarded address. Click Add.
The details for setting up your new mail account are displayed.
Click Close. Your new mailbox is now displayed on the Mail Admin page.
Add an alias:
Click Create under the Alias tab.
Add the new email address.
Add the other email address that you want mail directed to in the Forwarder field.

The dropdown list will display all mailboxes on the same domain – click to select, or
Insert your external email address and press Enter on your keyboard.

Click Add.
Your new alias is now displayed on the Mail Admin page.
Edit mail admin settings:
Hover over the icons in line with the relevant mailbox to:


Reset the password
Edit autoresponders (Help)

Click the 3 dot More menu to

Retrieve your mailbox details – needed when setting up the email address on your mail programme
Edit or add any mailbox forwarding addresses (Help)
Set a limit for the maximum size of individual emails that you want to accept in the mailbox
Disable or Delete the mailbox

The catch-all mailbox is disabled by default. If you would like all stray emails addressed to any username at your domain to be forwarded to a single mailbox, then add an email address in the Catch-all email field.
Note: Now that the email account is created on the server, you need to set up your email program or client (eg. Microsoft Outlook, Mozilla Thunderbird) to connect to the server to send and receive your email. If you are in the process of transferring a domain to xneelo it is recommended that you setup the email accounts before transfer.
Related Articles

Installing HTML email signatures in Microsoft Outlook (on Windows machine)

If you have comissioned a custom email signature from us, or created your own, here is how to install it in Microsoft Outlook: Step 1: Add a New Placeholder Signature In Outlook, go to File > Options > Mail and click on "Signatures". Click "New" to ...

How to set up mail forwarding within KonsoleH

Email forwarding allows you to either copy or redirect mail to other email addresses, either within your domain or to any external email address. Select between the following options: Alias forwarding – redirect mail by forwarding directly to another ...

Introduction to Zoho Mail

Take your email communication to the next level through Zoho Mail's modern-day emailing features. Watch the below video for an introduction to Zoho Mail. Video topics covered: 0:00 Webinar agenda 1:15 Introduction to Zoho Mail 1:52 Composing ...

How to Blacklist/Whitelist an Email Address

Email Spam is something we all have to deal with on a daily basis. It can be very frustrating and the one question that gets asked over and over again is how do go about preventing email spam? Steps to blacklist an email address using KonsoleH: ...

Blacklist emails - KonsoleH

Here's how you can blacklist email addresses to stop their spam from reaching your inbox: Browse to http://login.konsoleh.co.za and log in. Select Mail from the left-hand menu. Select the Black/Whitelist under Mail. Click on the Blacklist button at ...